SIP TRUNKING
Save up to 40% on your phone bill with a SIP trunk from Dia Telecom. Our SIP trunk simply replaces your existing analogue PSTN- or digital ISDN lines. Technically nothing changes on your end, while preserving the highest availability and all the features you are used to..

Get more out of your Communications
---
---
An increasing number of corporations consider a switch to SIP, not only for its greater flexibility and immediate costs savings, but it also helps optimise their network investment
SIP (Session Initiation Protocol) is an open standard technology that allows you to make calls over an IP connection, rather than a traditional phone network.
Thanks to the SIP protocol solutions like Voice and Video over IP have conquered not only a place in the private segment, but it also forms the cornerstone for communication solutions for corporations.
As one of the first providers Dia Telecom came with solutions that use open standards and comply with the requirements of the market. In the development of our SIP based products our years of experience in the field of voice, video and data has been decisive.
Our SIP trunk brings you the benefits of Voice over IP (VoIP) while retaining your telephony exchange equipment at your location.
Dia Telecom has a proven record of providing excellent service and reliability. Our SIP trunk delivers the best of both worlds, saving costs without compromising on call quality.
s a wholesale provider we handle large amounts of traffic for the Corporate Market, connecting people through high redundant Intelligent Networks for maximum availability.
TRUE MOBILE INTEGRATION (FMC)
---
---
Improve the accessibility of mobile- and remote working employees by incorporating Fixed–mobile convergence (FMC)
It's simple, no App or smartphone is needed. By replacing your Sim card, your mobile phone literally becomes an extension of your desk phone.
This means that you can be reached on you mobile by colleagues dialing your fixed extension and you can call colleagues from your mobile by dialing their extension.
Your mobile presence is shared throughout the organization and you have one single phone number and voicemail for fixed and mobile coverage.
And the best thing is that your high mobile phone bill belongs to the past since all mobile calls are handled through landlines.
Share mobile phone presence with colleagues
Exchange calls between desk and mobile phones
Desk and mobile phone ring at the same time
Dial extensions on your mobile to call colleagues
One voicemail for fixed and mobile coverage
All types of mobile phones are supported
No smartphone or App is needed
Handle Calls in Microsoft Teams
---
---
An increasing number of corporations consider Microsoft Teams as their number one collaboration app. Let's make that happen.



Make and receive work calls on any device anywhere

Works with Microsoft Teams on PC, Mac or Mobile

Quick & simple implementation in minutes

No hardware or software

Simple low cost monthly subscription

Works with Avaya IP Office™ platform, any other phone system, PBX or SIP Trunks Provider

Enterprise grade encryption and security built-in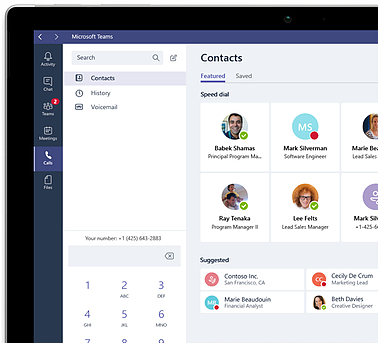 More powerful and affordable Mobile Solutions for your Business.

GPRS/UMTS/HSPA Bundles
Data through 2G and 3G networks. The speeds depend on the multi-carrier principle implemented with UMTS-HSDPA. Data traffic is charged per SIM card, based on a selection of bundles, of 200MB, 1GB, and 2GB.
Private GSM Network Services

Private GSM supported by Pico Cells with roaming between private GSM and macro network on Voice, SMS and Data. Intra customer private GSM Voice calls, SMS and Data are zero rated.
International Roaming Services
International roaming applies to all roaming partner networks of Vodafone NL. Our international roaming services include Voice, SMS / MMS and Data services.
True Mobile Integration

With our SIM-Only Services your mobile phone literally becomes an extension of your desk phone. Or even better, your Desk Phone is no longer needed.
Mobile Number Portability
Mobile Number Portability (MNP) is supported. Also new sets of unique mobile numbers can be obtained from Dia Telecom. Dia Telecom will keep ownership of the numbers until numbers are ported out to another donor network.
Simple Pricing, No Surprises

For an affordable fixed fee per month all SIM-Only packages include unlimited Voice, SMS and MMS, supplemented with 200MB, 500MB, 1GB or 2GB Data Bundle.
Looking for Phone Numbers?
More than 50,000+ Direct Dial-in Numbers

available in 100+ countries.

Local DDI numbers make your company more accessible for customers.
Thanks to the unique flexibility of CCaaS we're able to rapidly expand our business in the Benelux. Scaling our CCaaS capacity and features has become our unique selling point with which we win tenders. The switch to the CCaaS went quick and smooth, enabling us to focus on our growth.

By switching to Dia Telecom we save on our monthly telephony expenses, returning the upfront investment within one year. With UCaaS from Dia Telecom our office communications are far more flexible, working from home or on the road. We hope to continue taking advantage of their latest developments.

Introducing Unified Communications from Dia Telecom truly made the difference for our employees. Our customer contact experience has changed significantly. Bringing up customer details and history improves efficiency and resolution. It also proved to be flexible, easy to manage and rich in functionality.