UNIFIED COMMUNICATIONS AS A SERVICE
Get started with Avaya IP Office™ platform as a Service. Complete with all it's rich features, flexible, scalable, easy to manage, secure, affordable and ready for you today!
Simplify your Path to Business Collaboration
Powered By Avaya IP Office and VMware
---
---

Shrink and grow based on seasonality or organisational requirements. Don't waste money on licences that aren't being used. Scale your system as needed.
Web Collaboration: documents sharing, white boarding, full participant controls and a common user interface
Personalized Voicemail, Team Messaging and Online Presence
Powerfull Call Recording and Audio Conference Bridge options
Avaya IX™ Workplace client provides a feature-rich and consistent user experience across desktop (Windows and Mac), tablet and mobile (Android & iOS) devices
Expanded J-Series phone support provides customer options for a new sleek industrial design and transition to newer, better technology
Simple integration with third party platforms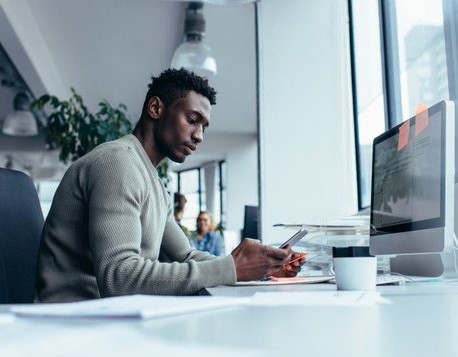 Experience the rich features of the Avaya IP Office™ platform at its best
by deploying Avaya IP Office as a fully managed service.
Unlimited SIP trunk channels and Voicemail Pro ports. Our managed services feature an unlimited capacity on both SIP trunk channels and the Voicemail Pro ports, providing speech-assistence during voicemail recordings, call queuing and call routing.
Dia Telecom installs, supports and manages the full system. You receive automatic upgrades & patches. Seamless upgrades help maintain your system with the latest security patches including bug fixes and other protections to ensure that users have a fast and safe experience with their devices.
Centralized Management. Proactive system management and real time monitoring. One intuitive interface - Monitor potential issues that could affect system performance, including over utilised trunk lines, voice ports and bandwidth utilisation. Protect your business with built in, always on security
Improve the accessibility of mobile- and remote working employees by incorporating Fixed–mobile convergence (FMC)

It's simple, no App or smartphone is needed. By replacing your Sim card, your mobile phone literally becomes an extension of your desk phone.
This means that you can be reached on you mobile by colleagues dialing your fixed extension and you can call colleagues from your mobile by dialing their extension.
Your mobile presence is shared throughout the organization and you have one single phone number and voicemail for fixed and mobile coverage.

And the best thing is that your high mobile phone bill belongs to the past since all mobile calls are handled through landlines.
Share mobile phone presence with colleagues

Exchange calls between desk and mobile phones

Desk and mobile phone ring at the same time

Dial extensions on your mobile to call colleagues

One voicemail for fixed and mobile coverage

Alle types of mobile phones are supported

No smartphone or App is needed
Our Avaya IP Office™ platform as a Service offer an excelling OPEX advantage with unique long-term ROI benefits.

Resiliency and HA setup
Leverage VMware to gain a resilient and reliable system in a completely operational expense model.
Backup, restore and disaster recovery
Daily backup of IP Office configuration as well as a full Cohesity backup (five day retention)
Vulnerability threat management
Automated identifying, assessing, classifying, remediating, and mitigating security weaknesses.
Continuous around-the-clock monitoring
24x7 monitoring of system CPU and RAM resources, IOPS, NIC connectivity, voice port and bandwidth utilisation, SIP trunks and IP Office appliance health.
Software availability and registery management
Automated software release distribution and registration.
100% Future Proof
Always ensured of the latest available Avaya software releases, upgrades, updates and patches.
Outage management and recovery

Professional 24x7 outage management and breakdown recovery service.
Cluster upgrades and security patches

Centralized management and distribution of cluster upgrades and security patches.
Easy To Manage
Manage your IP Office™ online, it's a true plug-and-play platform. Easily roll out applications, personalized IP Office to fit your unique business needs.

Handle Calls in Microsoft Teams
---
---
An increasing number of corporations consider Microsoft Teams as their number one collaboration app. Let's make that happen.

Make and receive work calls on any device anywhere

Works with Microsoft Teams on PC, Mac or Mobile

Quick & simple implementation in minutes

No hardware or software

Simple low cost monthly subscription

Works with Avaya IP Office™ platform, any other phone system, PBX or SIP Trunks Provider

Enterprise grade encryption and security built-in


Avaya IX™ Workplace
---
---
People are a company's most valuable resource, and that makes the employee experience critically important. Over 85% of employees cite ineffective communication for workplace failures.
The Avaya IX Workplace portfolio is carefully designed to improve key measures of engagement and productivity with powerful capabilities related to calling, collaboration and meetings, as well as a range of flexible, connected phones and devices.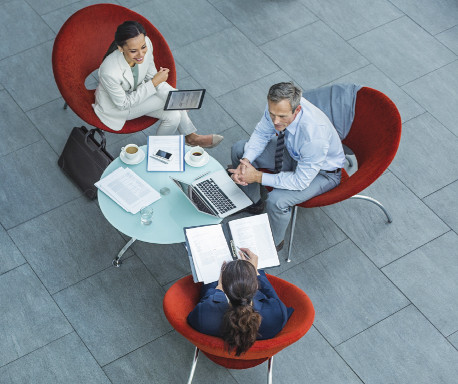 Making the Most of Avaya IX™ Workplace
Simplify Communications and Optimize Productivity
The Avaya IX™ Workplace client embeds communications directly into the applications, browsers and devices your employees use every day to create a single, powerful gateway for calling, messaging, meetings and team collaboration. We free people from their desktop and give them a more natural and efficient way to connect, communicate and share—when, where and how they want.
The Avaya IX™ Workplace solution delivers always-ready multimedia messaging. You can send and access text, audio, video, images and files in real time - or on your time - whether your contacts are online or off.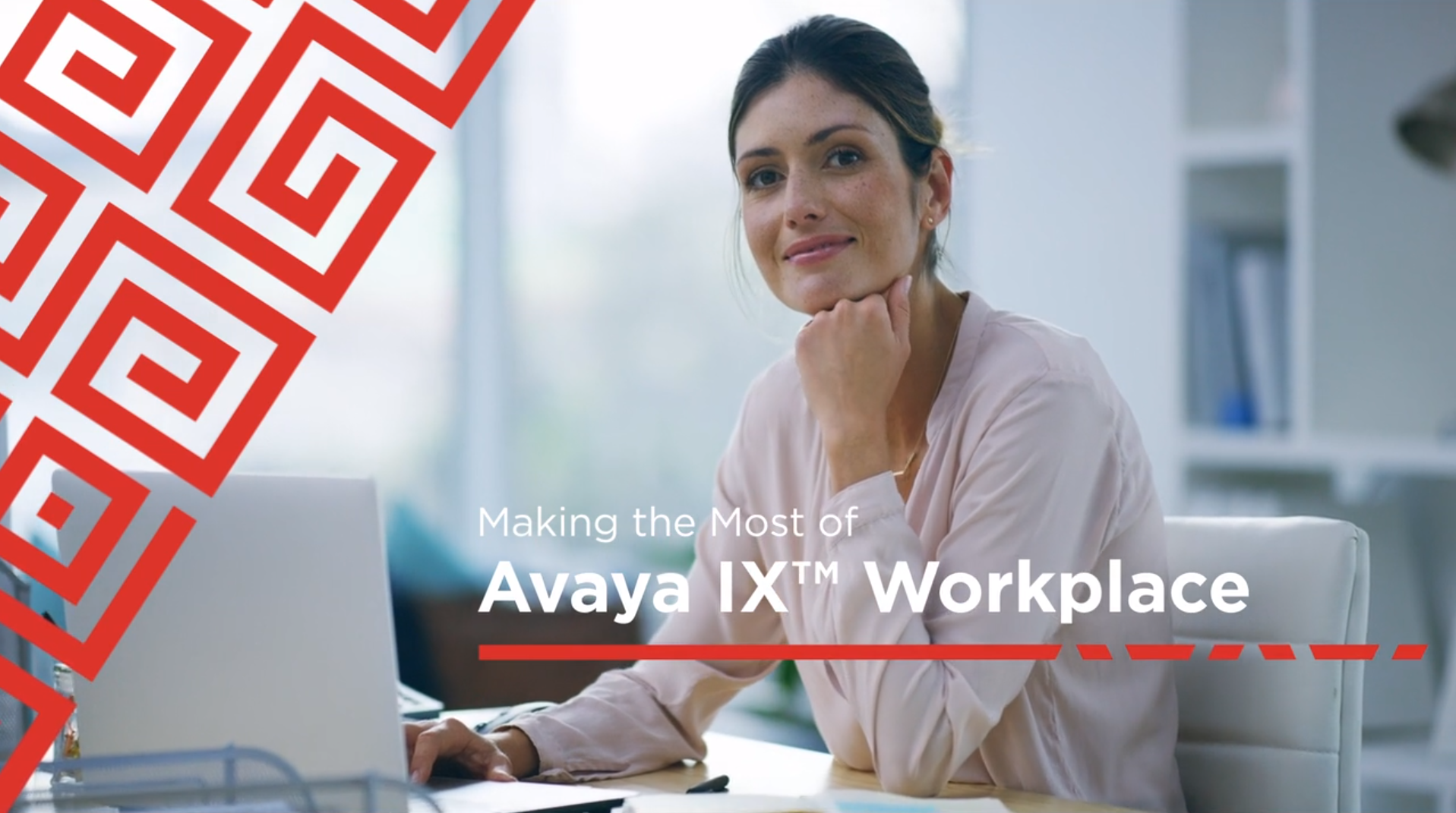 Adding Avaya Call Reporting
---
---
Avaya Call Reporting is a modular and scalable call reporting and contact center solution that can be deployed on top of your existing IP Office™ platform.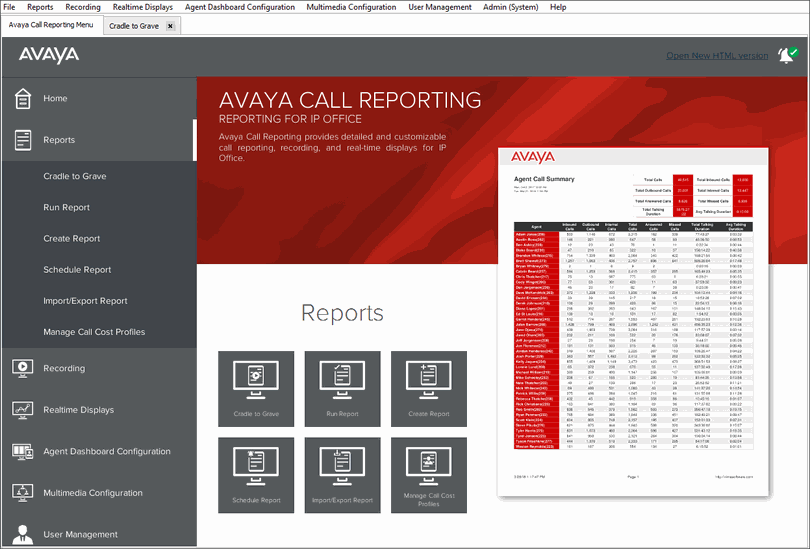 Reporting for better business insight
Avaya Call Reporting (ACR) brings to small and midsize businesses the capabilities they need to manage their IP Office™ phone system and deliver a better customer experience.
ACR is a modular solution that helps small and midsize businesses to begin with a standard call reporting license and add real-time reporting, contact center and call recording modules as their contact center requirements evolve.

ACR is deployed on top of your existing IP Office™ platform.
Cradle-To-Grave Reporting
You can't manage what you can't measure.
Cradle-to-grave reporting can validate each inbound, outbound and internal call from start to finish. Follow each step in the process of connecting customers to the right employee. Find your companies weak spots, improve employee collaboration and your overall customer experience. Cradle-to-grave call reporting and tracking is presented through over 50 standard reports. Recording Library provides easy access to recordings within the same reporting interface.
Cradle-to-grave reporting reveals the various paths taken by calls and the people involved from initial contact till the end of calls. Avaya Call Reporting delivers great value with features like unlimited configurable wallboards and real-time reporting.
ACR's real-time and historical call reporting capabilities enrich call information to provide insight on call and staffing trends and overall performance.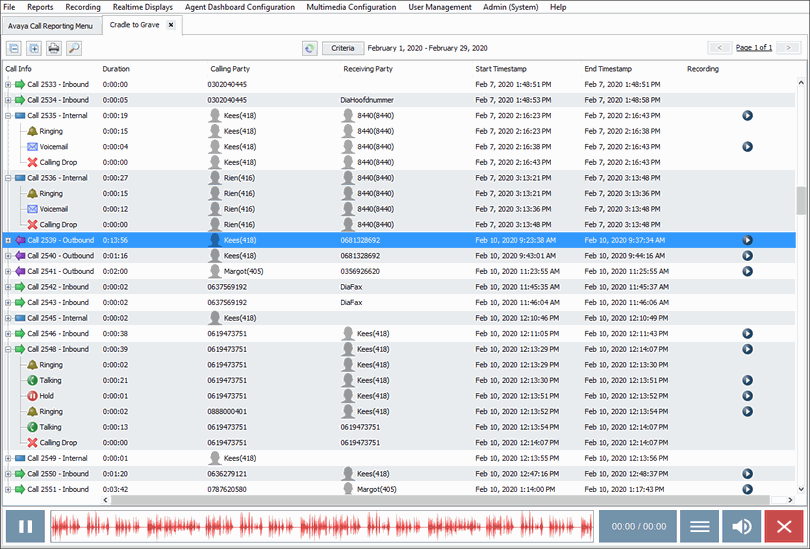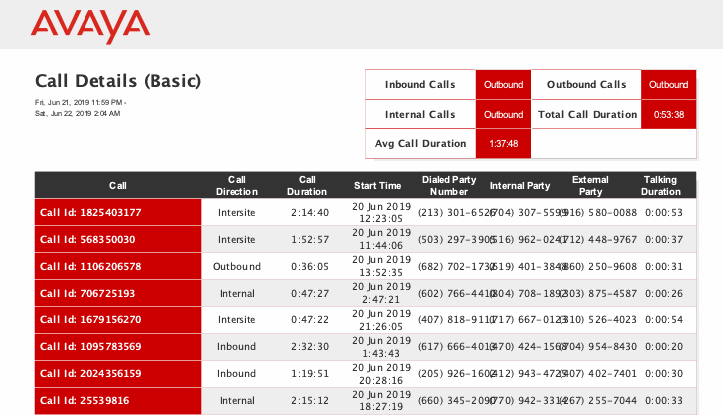 Call Detail Report
The Call Details report is a Call Detailed report. This means that each line on the report will represent one individual call and will provide details for each call.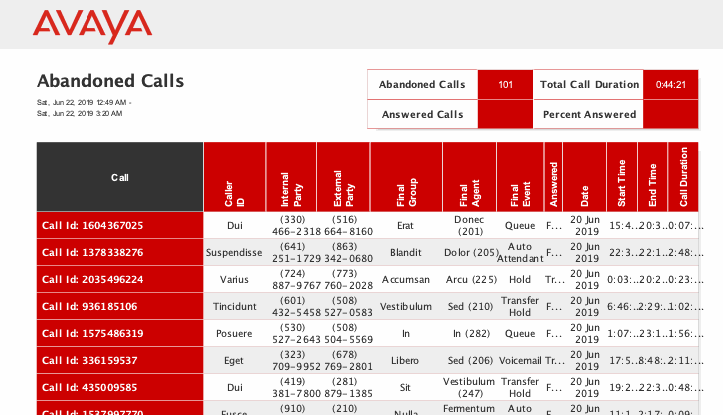 Abandoned Calls
The Abandoned Calls report show the calls that did not reach the agents possibly because the customer disconnected while in the waiting queue. Each line represents the follow-up details for calling back the customer.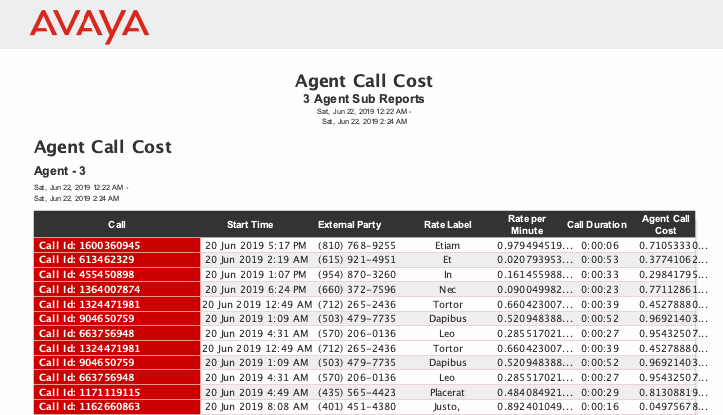 Agent Call Costs
Agent Call Cost reports are typically used in scenarios when clients/agents are charged for their time on the phone. Each line on the report represents one individual call and provides relevant details.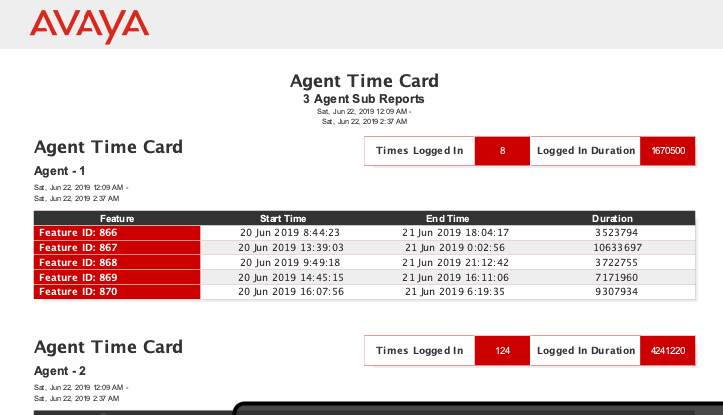 Agent Time Card
The Agent Time Card report is a Feature Detailed report. Features consist of phone activities such as Extension/Group Login, Do Not Disturb, etc. Each line on the report will represent an instance when the agent logged in, went on Do Not Disturb, etc.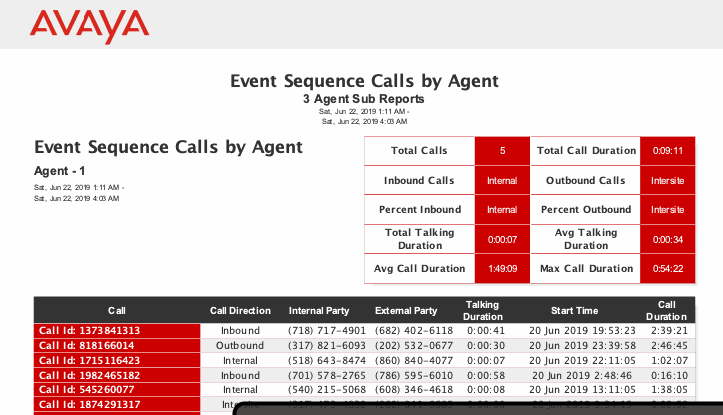 Event Sequence Calls
The Event Sequence Call report is a Detailed List report. This means that every line of the report represents one phone call. Furthermore, as a Detailed report, each line on the report will represent one individual call and will provide details for each call.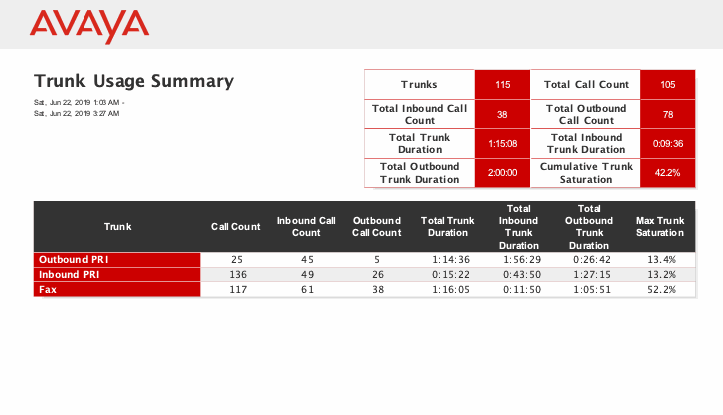 Trunk Usage
This report displays summary statistics for the overall trunk usage. Columns displayed on this report feature total call count, inbound/outbound call count, total trunk.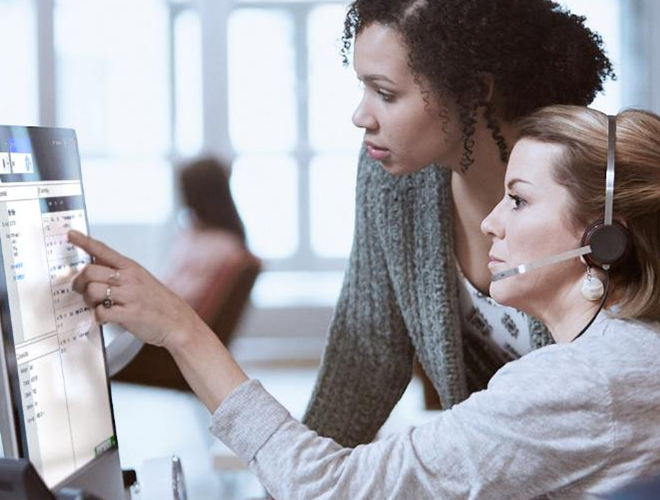 Adding a Multichannel Contact Center with ease
Avaya Call Reporting provides an easy to deploy and simple to use multichannel contact center for IP Office™ platform. With ACR customers can interact with your business via voice calls and web chat. Skill-based routing helps connect customers to agents best equipped to service inquiries. Queue call back frees customers from waiting on the phone and instead request a call back without losing their original position in queue. Realtime agent seat and Agent Dashboards enhance IP Office hunt groups and deliver visual call management with wallboards and customized agent dashboard displays.
Avaya Call Reporting is a modular solution that helps small and midsize businesses to begin with a standard call reporting license and add real-time reporting, contact center and call recording modules as their contact center requirements evolve.

Agent desktop
Track agent productivity with reason codes and empower them to collaborate with supervisors via presence utility..

Real-time monitoring
Unlimited configurable wallboards and up-to-the-second agent state visibility provide real-time contact center metrics.

Call recording
Call recording and playback integrated with cradle-to-grave reporting. Supports recording for inbound, outbound and internal calls via active recording.
Multichannel Contact
Customers can interact with businesses via voice calls and web chat.
Queue call back
Empowers customers to request a call back while maintaining their original position in queue.
HTML Interface
100% browser based, single pane view, HTML Contact Center Agent Experience supports WebRTC or any other voice client.
Skill-based routing

Intelligent routing of customers based on skill group and proficiency.
Languages Supported

English, French, Canadian French, German, Spanish, Portuguese, Italian, Swedish, Dutch, Danish, Hungarian, Czech, Mediterranean and Chinese.
Historical reports
60 out-of-the-box reports help you measure performance and identify and pursue improvement opportunities.

Pricing Avaya Call Reporting for IP Office™
Affordable while adding great value for your business
Avaya Call Reporting Basic User
Cradle-To-Grave Reporting

Build-in Reports

Free Supervisor License

Avaya Call Reporting Plus User
Basic User features+
Report Customization

Call Recording
Avaya Call Reporting Real-Time User
Plus User features+

Real-time Reporting

Unlimited Wallboards

Agent Desktop Experience

Avaya Call Reporting Contact Center User
Real-Time User features+
Voice Agent
Web Chat Agent

Skill-based Routing

Queue Call Back

Try Avaya IP Office™ free for one month
Get in touch with one of our sales representatives

try it for free
Sign up for a trial, and get full access to Avaya IP Office™ platform. You can add up to 25 users for 1 month.
By switching to Dia Telecom we save on our monthly telephony expenses, returning the upfront investment within one year. With UCaaS from Dia Telecom our office communications are far more flexible, working from home or on the road. We hope to continue taking advantage of their latest developments.

Thanks to the unique flexibility of CCaaS we're able to rapidly expand our business in the Benelux. Scaling our CCaaS capacity and features has become our unique selling point with which we win tenders. The switch to the CCaaS went quick and smooth, enabling us to focus on our growth.

Introducing Unified Communications from Dia Telecom truly made the difference for our employees. Our customer contact experience has changed significantly. Bringing up customer details and history improves efficiency and resolution. It also proved to be flexible, easy to manage and rich in functionality