CONTACT CENTER AS A SERVICE
Get started with Avaya Contact Center Select as a Service. Complete with all it's rich features, flexible, scalable, easy to manage and ready for you today!
A great solution asks for a simple pricing model leaving no surprises
---
---
Our awarded CCaaS license model is attentively tiered for the Corporate Market, delivering an excelling OPEX advantage with unique long-term ROI benefits.

More Powerfull than you think
Avaya Contact Center Select is an intelligent onmichannel contact center solution supporting customers via Voice, IM, SMS, Social Media, Web Chat, Email and Open Queue for everything else.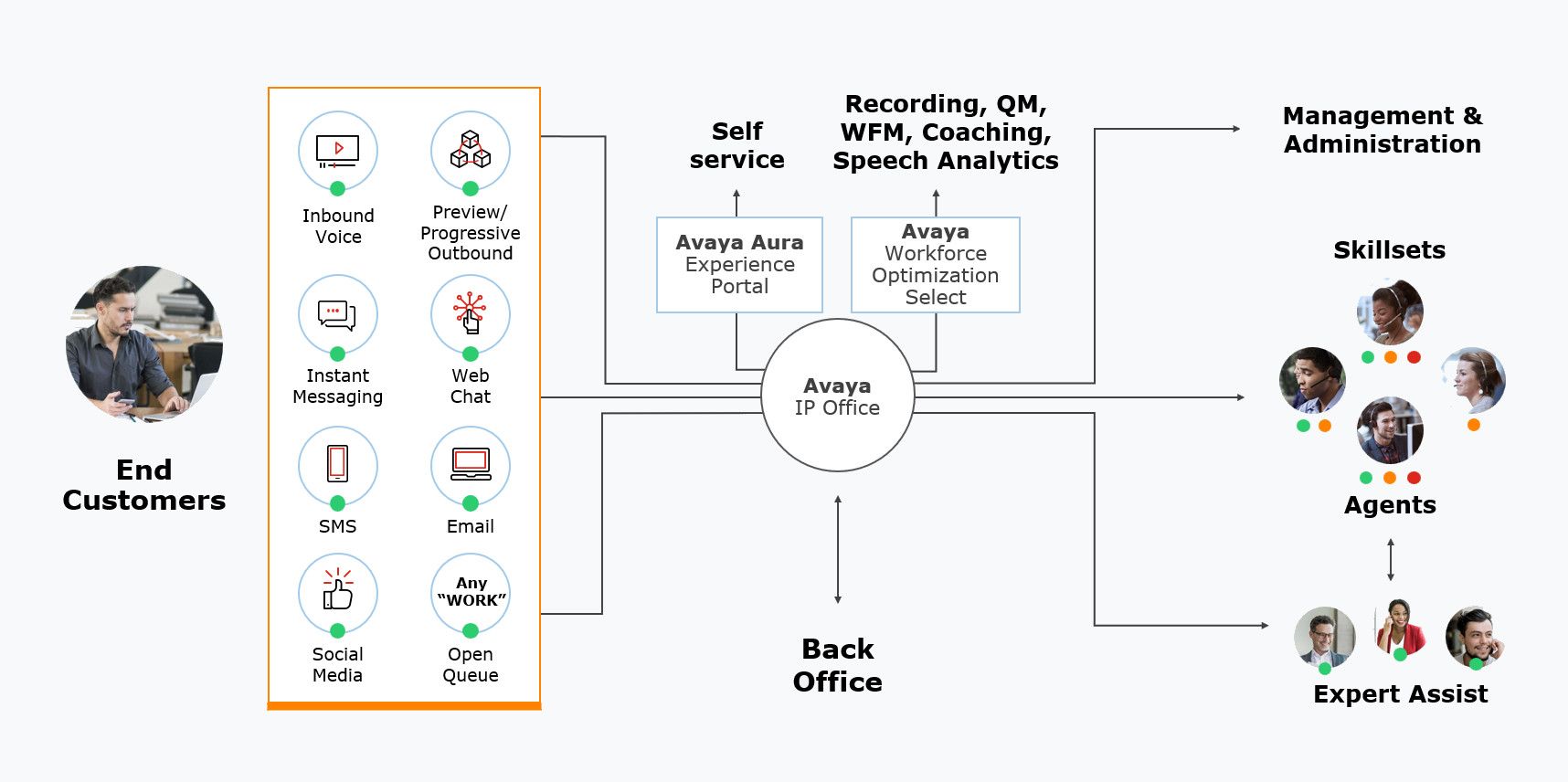 Avaya ACCS offers an optional thick-client, an user-friendly interface that allows agents to communicate easily regardless of the channel. Interactions can be handled individually or simultaneously depending on the agent settings.

Avaya ACCS also offers a optional HTML5 thin-client. Avaya Intelligent Xperiences™ (IX) Workspaces is a 100% browser Agent Desktop.
Modern Agent Desktop
Consolidate information from multiple systems into a consolidated desktop
Thin client desktop can easily be personalized for all profiles - agents, supervisors and administrators
Easy to adopt and easy to use
Contextual & Continuous Experience
Customer journey visualization and drill-down
Context-based agent guidance / frequently used phrases
Event-driven customer journey map displays customer-agent interactions in a graphical timeline view
IT Friendly & Risk Free
Reduce costs versus managing thick client interfaces
HTML5 thin-client desktop
Leverage dynamic widget-driven layout to quickly build custom widgets
Avaya IX™ Workspaces a closer look
To activate Avaya IX™ Workspaces, agents access an URL and simply log into the system using their user name and password

1 - Agent toolbar Provides options for quickly making voice calls, viewing interaction logs, changing agent states, and accessing the Address Book.
2 - Interaction area Displays all incoming contacts, whether through voice, SMS, email, or chat, as interaction cards for the agent. The interaction cards are queued for the agent at any time.
3 - Navigation menu Provides options according to the type of interaction.

4 - Interaction widgets Displays information related to the interaction.
5 - Agent state summary Displays the agent ID, Station ID, the current state of the agent, and the channels available for interactions.
Avaya IX™ Workspaces improves agent productivity and the overall customer experience by integrating multiple widgets into a single agent desktop. Customizable widgets provide agents all necessary information including customer history, customer- and interaction details they need to improve and personalize customer interactions.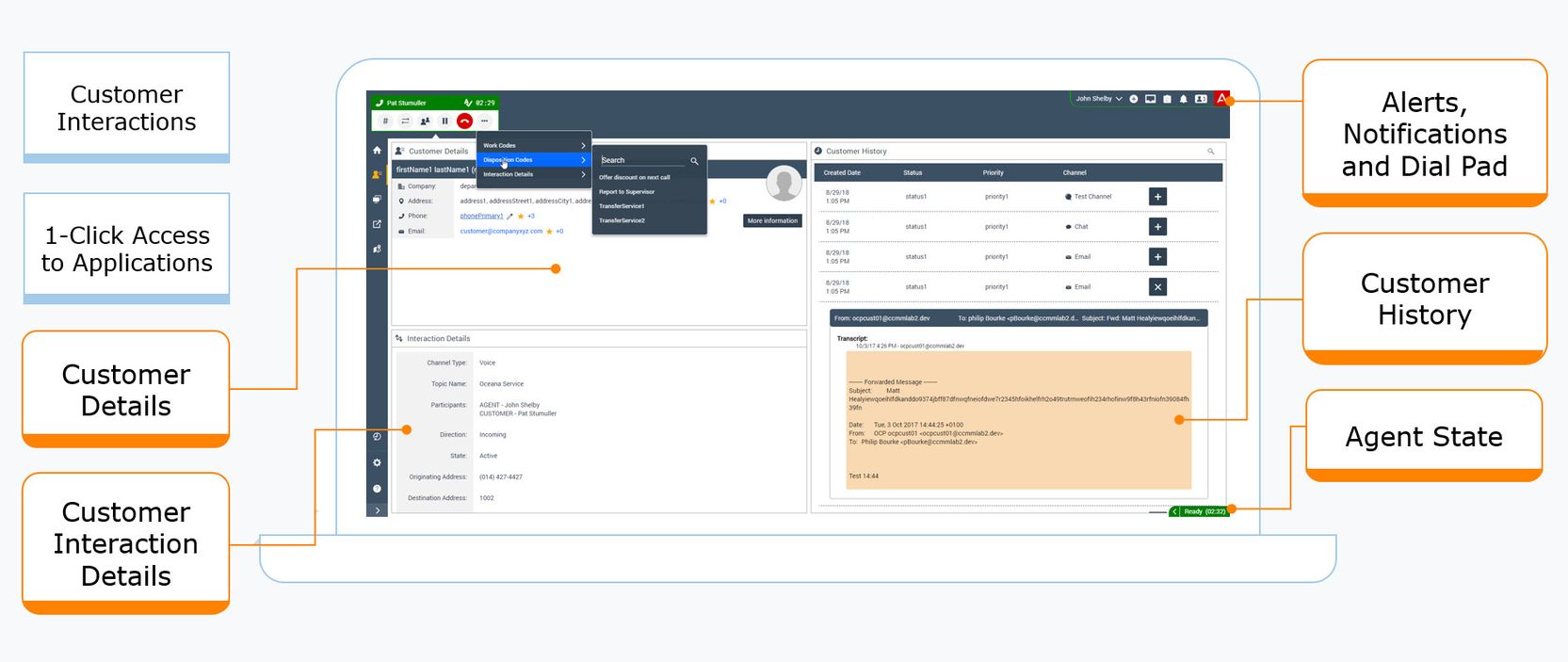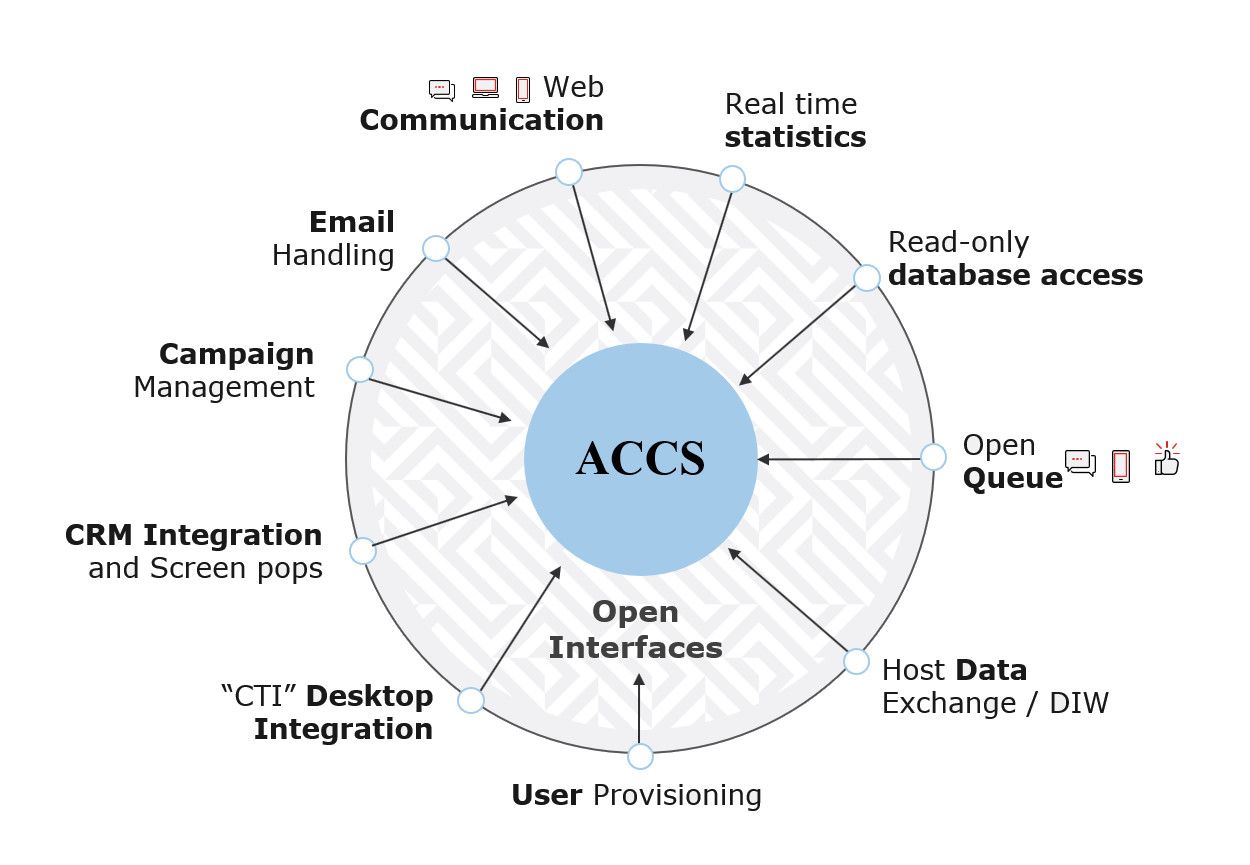 Contact Center Manager Server (CCMS) Open Interfaces, enables client applications to queue contacts in the Contact Center.
Contact Control Service Java and JavaScript SDK APIs, support agent and supervisor inbound contact control, plus outbound voice call control for solutions that integrate with Avaya Proactive Outreach Manager.
Contact Center Multimedia Web Communications Web Services. The CCMM Web Communications Web services enable client applications to integrate with a Contact Center Multimedia system.
Contact Center Multimedia Outbound Open Interface, enables client applications to access and manage existing outbound campaigns.
Email Open Interfaces, enable the development of custom Web services that can be called from the Contact Center Select Email Manager whenever an email is processed. The custom Web services can perform tasks such as manipulating the emails and modifying the rule routing options.
Contact Center Manager Server Programming APIs. Supports Real-time Data (RTD) API & Real-time Statistics Multicast (RSM) Interface
Host Data Exchange (HDX) API, enables the exchange of data between CCMS and a client application
Enterprise Web Chat APIs, Contact Center Multimedia Web Communications Web services (which continue to be supported) and the new Enterprise Web Chat (EWC) WebSocket and REST APIs.
CCT .Net API, supports the complete contact control feature set. The API is suitable for complex client- and CCT server-based solutions, and provides support for multimedia and SIP-enabled Contact Center installations
Adding multiple applications from one Common Core

Intelligently Automate Routine
Text Chat Interactions with Avaya Chatbot

Avaya Workforce Optimization Select
Improve the Customer Experience with Every Interaction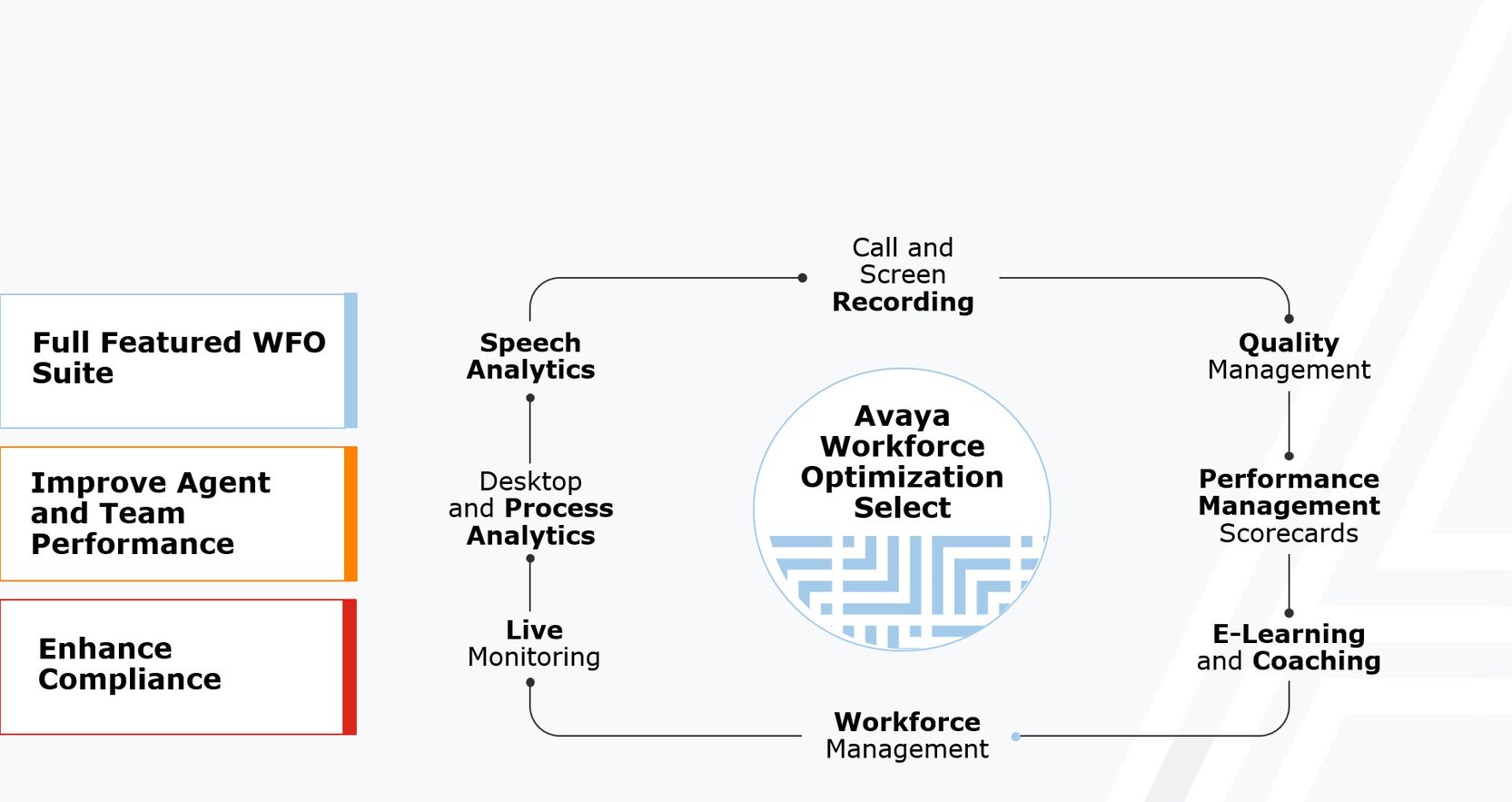 Add-on pricing Workforce Optimization Select
---
---
Additional features like Desktop Trigger, Workforce Management and Speech-to-Text Transcription are optional modules available with any Agent package.

AWFOS
Recorder Agent
Dashboard & Messaging
Reporting
Voice Recording
AWFOS
Standard Agent
Recorder Agent+
Live Monitor
Screen Recording
AWFOS Quality Performance Management Agent (QPM)
Standard Agent+
Quality Management
Performance Management
Coaching & Learning
Avaya Contact Center Select. The Most Widely Used Contact Center Solution in the World.

OPTIMIZE EFFICIENCY
Avaya ACCS gives you the power to monitor and analyze virtually everything that's happening in your contact center. Identify areas where you can increase productivity and reduce costs.
PROVEN TECHNOLOGY
Avaya ACCS takes full advantage of Avaya's recognized strength in voice heritage, application development, global services and leadership position in the global market.
REAL-TIME MANAGEMENT
Match your personnel resources and skills to call volumes and caller needs. Take fast, effective action to improve the overall efficiency of your contact center operations.
ANYTIME, ANYWHERE
Avaya ACCS is virtually deployable and manageable using a single site or across an enterprise. Agents are connected at-home, remote or on the road. Supervisors can virtually monitor everything on any device, anytime and anywhere.
FLEXIBLE & SCALABLE
Our awarded CCaaS license model is attentively tiered for the Corporate Market. You only pay for what you currently use. Feel free to increase of decrease your number of licenses on a monthly basis.
INTEGRATED REPORTING

Avaya ACCS Reporting contains rich and flexible applications that leverage your investments in other productivity initiatives. Integrate long term ACD data storage with mainframe-based documents such as sales and marketing reports.
Thanks to the unique flexibility of CCaaS we're able to rapidly expand our business in the Benelux. Scaling our CCaaS capacity and features has become our unique selling point with which we win tenders. The switch to the CCaaS went quick and smooth, enabling us to focus on our growth.

By switching to Dia Telecom we save on our monthly telephony expenses, returning the upfront investment within one year. With UCaaS from Dia Telecom our office communications are far more flexible, working from home or on the road. We hope to continue taking advantage of their latest developments.

Introducing Unified Communications from Dia Telecom truly made the difference for our employees. Our customer contact experience has changed significantly. Bringing up customer details and history improves efficiency and resolution. It also proved to be flexible, easy to manage and rich in functionality.